A PVC-free inflatable future.
Say goodbye to the days of cheap plastic pool floats and join us in our commitment to floating PVC free.
Over the past few decades, polyvinyl chloride (PVC) plastic, commonly known as the 'poison plastic' has become one of the most widely-used types of plastics. We find it all around us, especially, with cheap, inflatable pool floats currently on the market. Its advantages are that it is versatile and inexpensive. However, the price we pay for a low-cost and seemingly harmless PVC donut or flamingo for our pool this summer is far steeper than it may at first appear. 
In fact, this commonplace plastic is one of the biggest contributors to the flood of toxic substances saturating our planet. PVC contaminates the environment throughout its lifecycle; during its production, use and disposal. While most plastics pose threats to the environment, few consumers realise that PVC is one of the single most environmentally damaging of all plastics.
The Alternative, Thermal Polyurethane (TPU)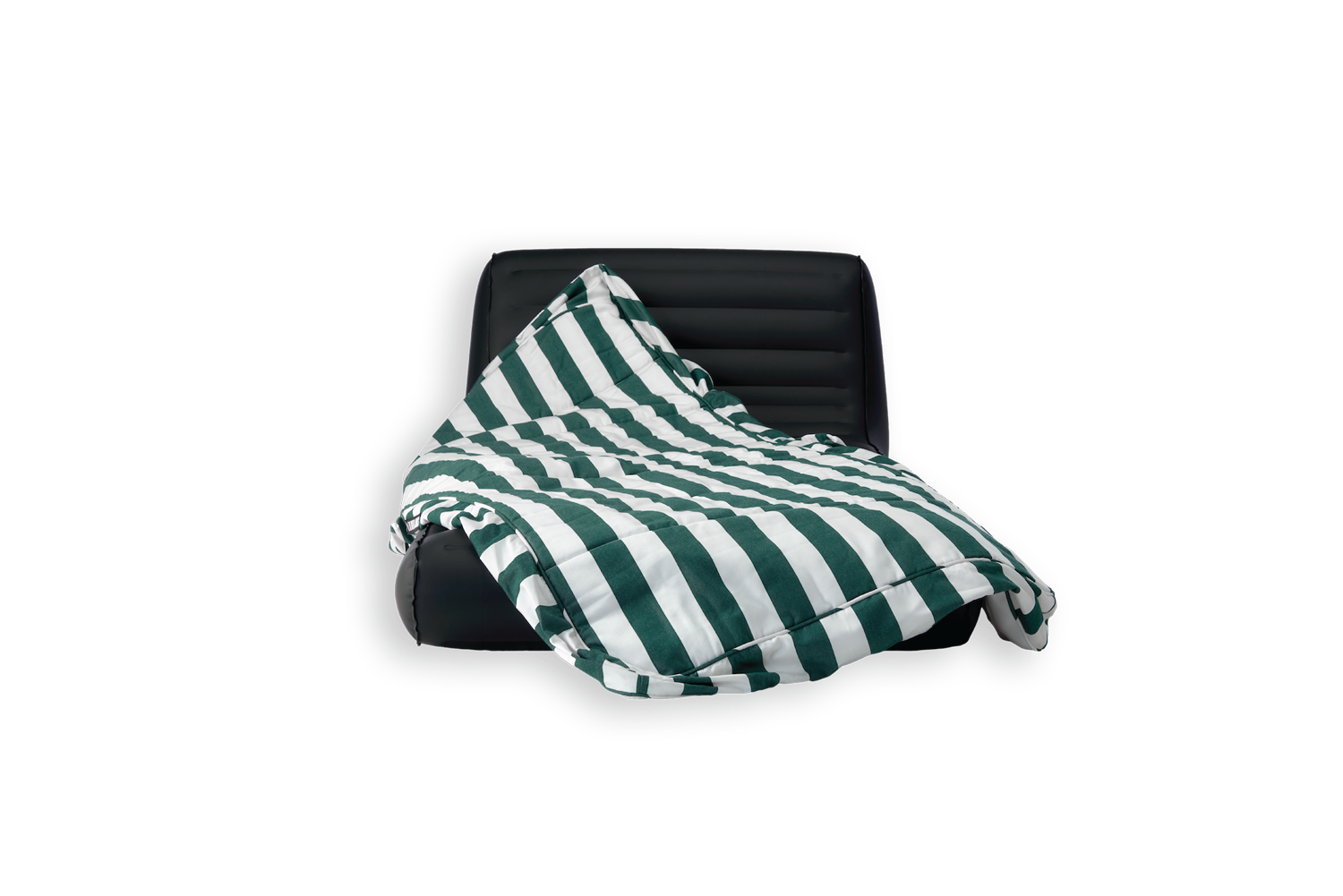 We do our best to ensure our products are as environmentally friendly as possible. We do so by using a material called thermal polyurethane (TPU) to make our inflatable cores, which in essence is similar to a thin rubber film. Despite being very expensive TPU is an extremely recyclable material that creates a more durable and comfortable inflatable. In the industry, TPU is regarded as the material of choice for making the best performance inflatables. 
Besides its manufacturing process, TPU also has some significant advantages over PVC including:
Greater flexibility and excellent strength
Lighter weight
Abrasion resistant
Resistance to oil and solvents
Resistant to ageing and cracking
Improved UV resistant.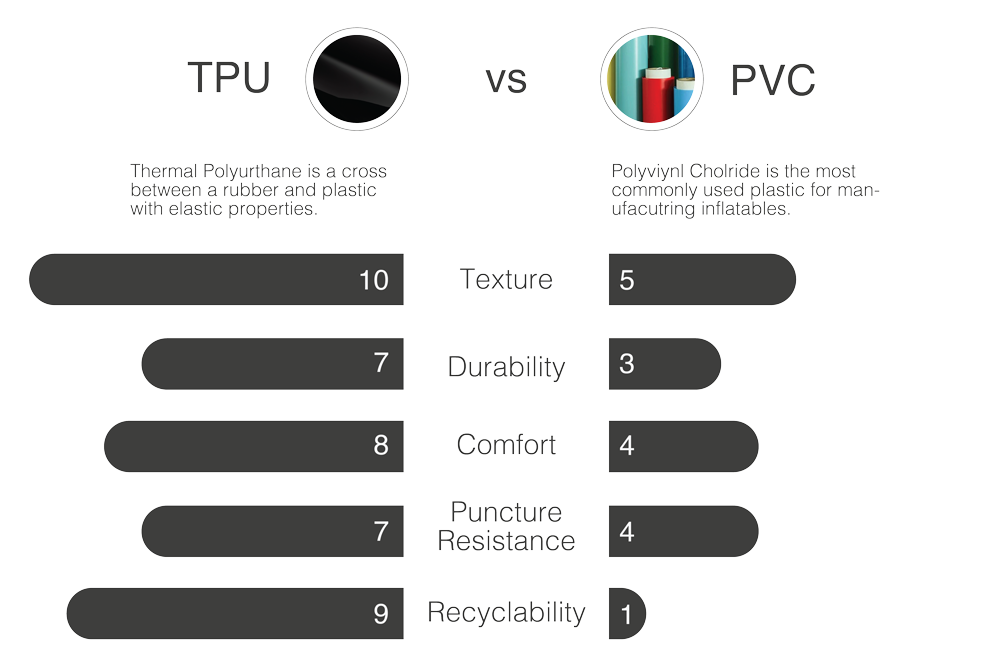 Due to these advantages and qualities, TPU is already used widely in the manufacturing of other performance products such as snow gear, life-jackets, air-beds, sports equipment and medical products. 
The Alternative, Solution Dyed Acrylic (SDA)
When it comes to our fabrics we work exclusively with partners like Sunbrella, whose products are rooted in sustainability throughout the manufacturing of the fibre, yarn, and fabric. By incorporating the dye into the fibre during the manufacturing process, solution-dyed fabrics reduce water consumption, as they eliminate the need for post-dyeing rinses.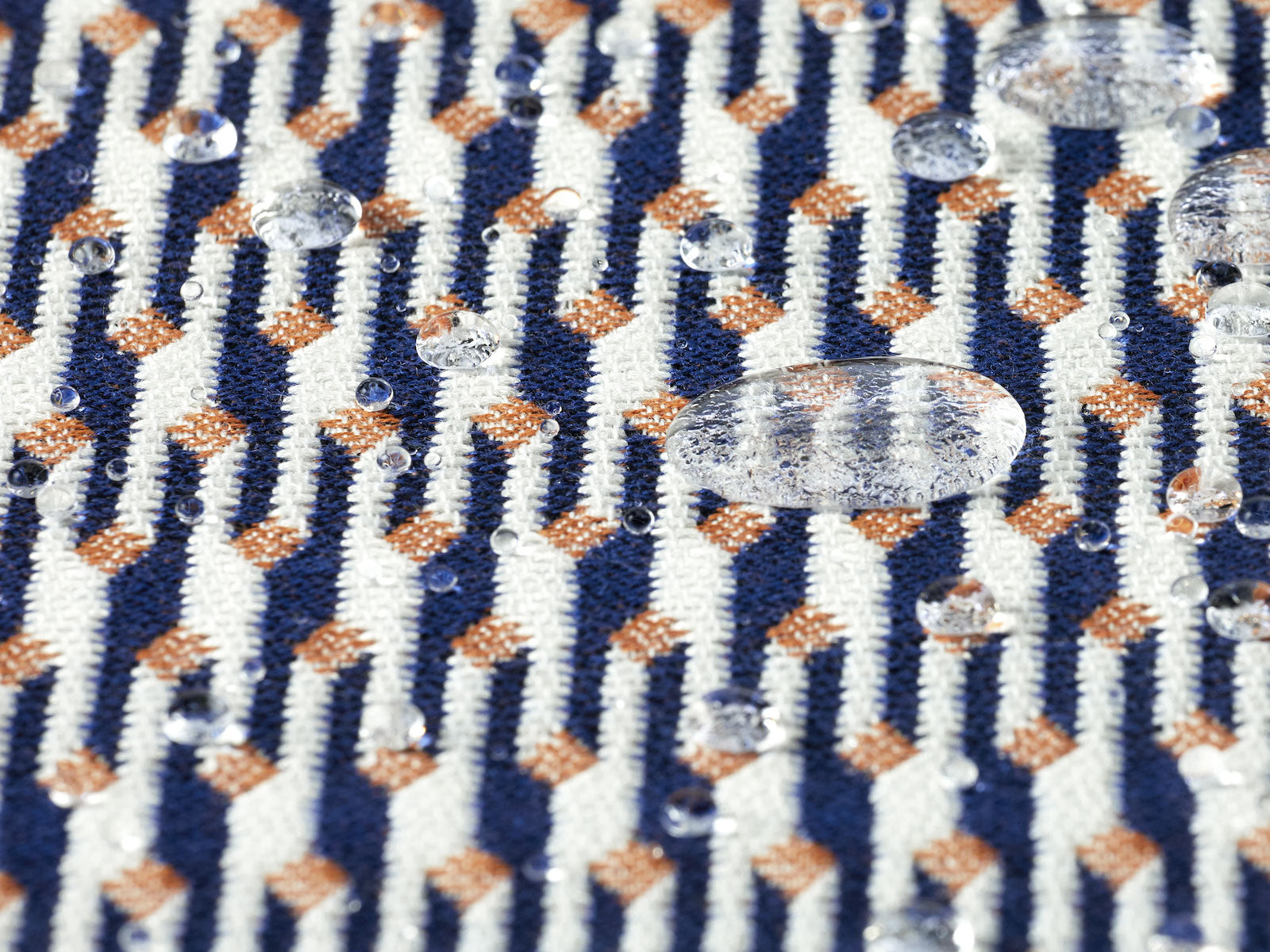 Additionally, the process requires fewer chemicals overall, resulting in reduced chemical usage and environmental impact. The energy requirements for solution dyeing are also lower compared to conventional dyeing methods. These eco-friendly practices help minimise the release of pollutants, conserve resources, and reduce the carbon footprint associated with textile production.
Furthermore, their dedication to quality ensures that you are getting a product that lasts longer, Sunbrella fabrics hold their colour and strength - significantly outlasting traditional fabrics.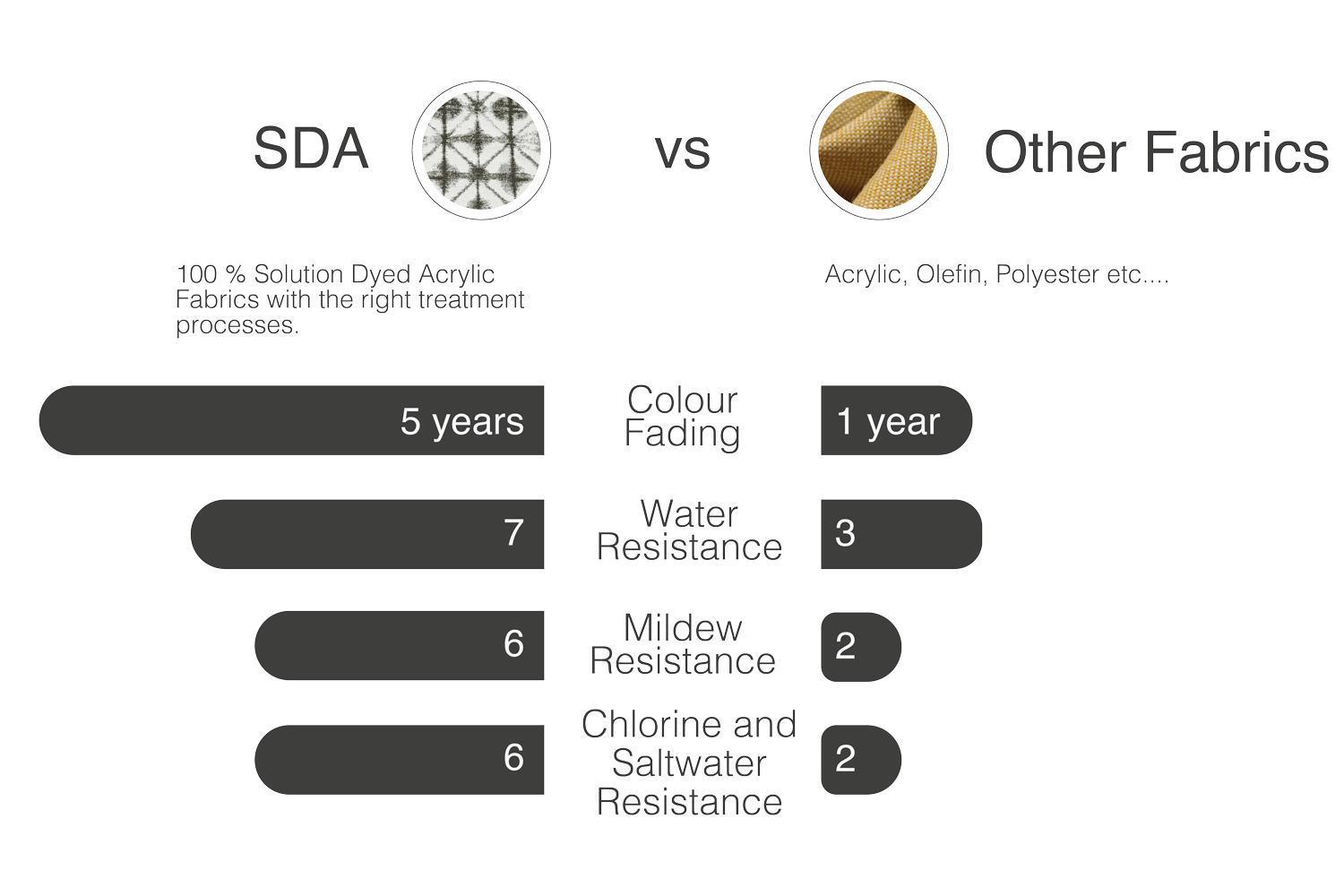 At our own manufacturing and assembly facilities, all fabric off-cuts are used to make other products, including fabric swatches, while our collateral and packaging are made of recycled or organic materials and waste material recycled.
We are proud to be working towards a PVC-free inflatable future whilst also giving you the advantage of purchasing a Lilo that is made using the highest quality materials on the market.
Blog posts
See all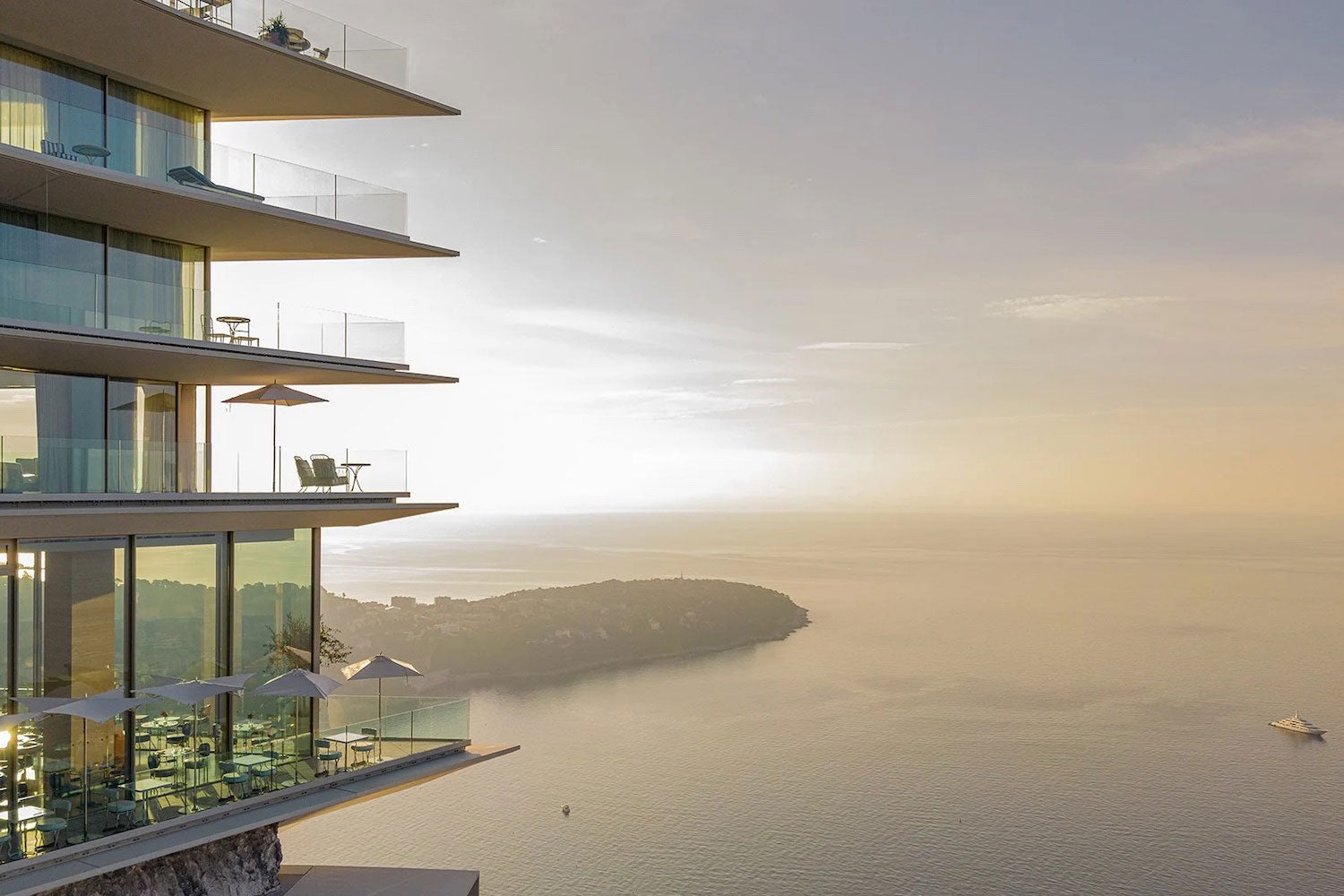 A luxurious hospitable summer season
We have been both humbled and blessed over the past three years to partner with some of the most renowned boutique hotels and collections from across the globe.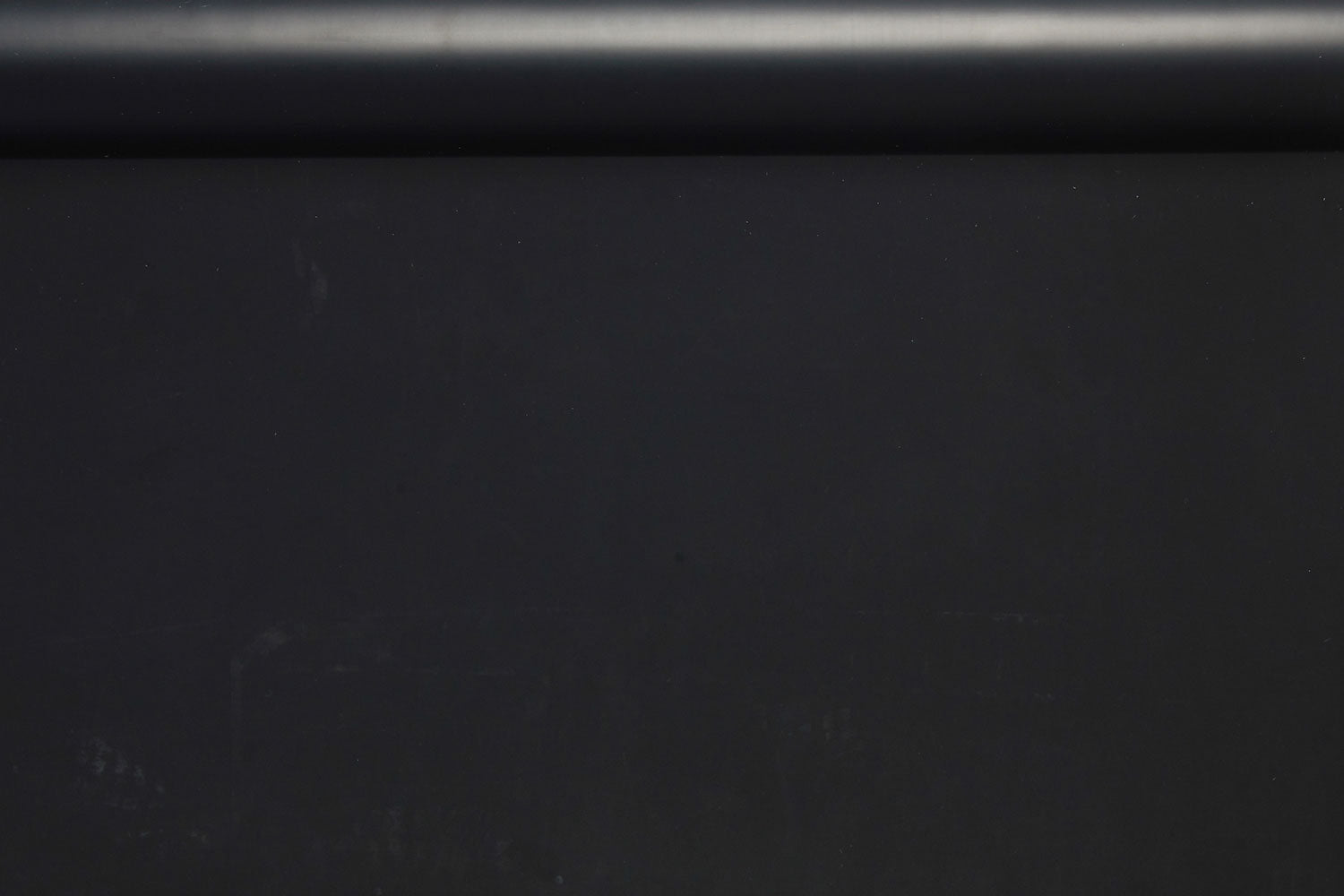 Say goodbye to the days of cheap plastic pool floats and join us in our commitment to floating PVC free.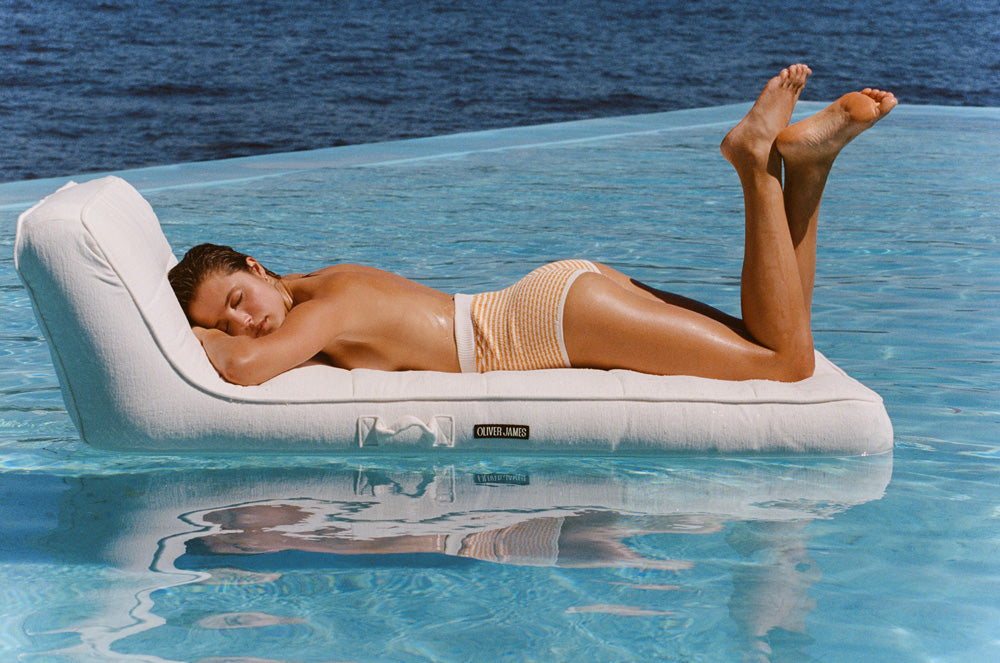 Welcoming our Summer 2023 Collection
This season, we are proud to have launched a completely transformed new collection of Double and Single Lilos and introduce our newest upholstered inflatable product category, The Ring.